The Elusive Lantern Bugs
Lantern Bugs
(
Fulgoridae
) often sport bright patterns, and are highly sought after by macro enthusiasts. Unfortunately, they are also favorite targets amongst collectors and poachers. Hence, the locations of most sightings are usually not revealed in public.
The last published sightings of a lantern bug in Singapore was in
2009 by Dr Leong Tzi Ming
, with only a few unconfirmed private sightings in the past 2 years. If you have other sightings or record shots of any lantern bugs in Singapore, please do let me know via my email (see right at the end of
Behind This Blog
). I would be very keen to find out more. 🙂
I was very privileged to have some good friends bringing me to (yet another) undisclosed location where some of the lantern bugs could be found, albeit for a particular season only. It was one of the most beautiful species compared to the others I've seen online, and sight to behold indeed! Appreciate if anyone has the exact ID for this.
#1 Found the first
Lantern Bug
at over an inch long! I was told that they sometimes open their wings to reveal a metallic blue body!
#2 Top view. This bug loves to sway from side to side, very much like a praying mantis.
#3 And then there were 2…! Stitched from 2 separate photos.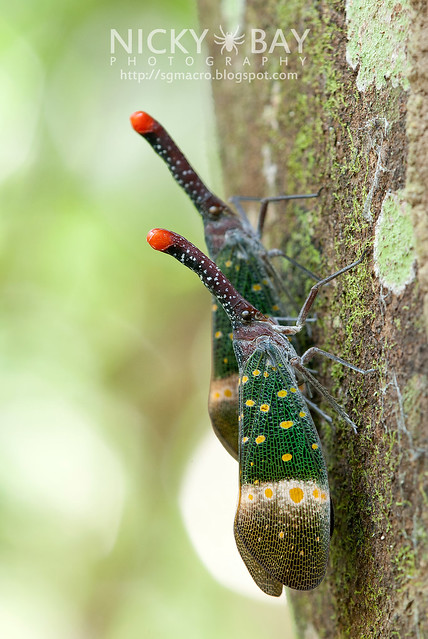 #4 The 2 got together intimately. We excitedly thought they were going to mate… then my friend said they were both males… sian.
#5 Another shot of the almost gay couple
#6 Ok owning up.. there were actually 3 of them walking about on the tree trunk
#7 Managed to stitch a stretch of photos when the 3 of them stood in a straight line!
#8 This was the closest they got together, a lovely threesome portrait 🙂
#9 The slow trek upward… WAIT FOR MEEEE!
#10 Alternatively, follow the leader!
Other than lantern bugs, there were a few other finds, but I didn't spend too much time on them as I knew that I could find them elsewhere. More in the next post!
Sorry, no idea on locations as I was also led around on car through many unmarked turns. Hope these lantern bugs continue to flourish, and bring as much excitement to their visitors in many more years to come.