Gunung Santubong, Kuching Day 1
[
Day 1
|
Day 2
|
Day 3
|
Day 4
]
Did a 4D3N macro trip of nothing but bug hunting at Kuching, Sarawak! Gunung (Mount) Santubong was our destination, as a guide in Perak had recommended the place. Was it as bug-filled as claimed?? Read on to find out…
p/s: Most "behind the scenes" pictures were from David and Melvyn's camera and published with their kind permission. Only the bugs were from my camera. 😛
The Flight – All Set and Ready to Go!!
#1 Group photo at Singapore Changi Airport, before checking in our luggage. We were worried that our luggage was overweight, but found that the reading was lower if we positioned the luggage horizontally! heh. Oh, notice the bright orange bag? Not sure which china man it belonged to.
#2 Found that my photo was already published in the bookshop! But but but… white balance was obviously off!?
#3 Made a version of the page with the white balance properly corrected. Click on the picture for a slightly larger version.
#4 Quick 1.5 hour flight and we're here in Kuching!
Kuching – Preparation
#5 First stop had to be food. What food is famous in Sarawak? Kolo Mee? Apparently the driver told us that Kolo Mee is only available in the mornings… but we found one anyway! A food center called Xiang Xiang something something. We also found another place called
Ho Say Liao
. Wonder what food they'd sell….?
#6 Eager to tuck in. But the food didn't look too enticing…
#7 Plain looking Kolo Mee. Not a very happening lunch, but the mint herbal tea was nice!
#8 Stocked up on cup noodles in case we got really hungry after the night shoots. Nick had a shopping list and even bought eggs, boxes of tissue, and… of course, canS of tuna. 🙂
#9 Armed with a shit load of groceries, we happily trooped towards our resort on a minivan.
Arrival at Permai Rainforest Resort
#10 Dumped all our bags on the floor upon arrival, together with our loot from the supermarket
#11 Looks very resorty, no?
#12 Lance figuring things out at the reception
#13 Very nice! They had a tractor to magically teleport our luggage to our cabin, which we found to be a 10 minute walk away from the reception (upslope). Couldn't help doing silly poses before the walk!
#14 All ready to load the luggage up on the tractor!
#15 The supposed tree house! Not wrapped around a tree as I expected leh.. and no, we didn't stay in this one. 🙂
#16 David tried to take a photo for Mel and Wyn but a big orange lantern bug appeared behind them.
#17 Before reaching our cabin, we found a robberfly resting on Nick's bag while the tractor romped on bumpily. We tailed the tractor closely, and managed to steal a couple of quick shots! A little dark as I didn't setup my flashes – the tractor driver was waiting for us to unload our bags. Paiseh la.. 😛
#18 Finally reached our cabin! 3 bedrooms with 3 beds each. Only had 6 of us, so 2 to a room it shall be!
#19 When we were heading out to lunch, Melvyn couldn't help looking around and found a little crab for us to warm up with.
#20 Bigger pic of the crab
#21 Close up on the little fella. We found several others hiding in rocks in resort!
#22 Beautiful shield bug nymph, also just outside our cabin
#23 The sun began to set and we took a group pic to mark the start of our bugathon!
#24 Reached the cafe and dumped all our gear on the table. Attracted quite a lot of attention when we lugged (okok.. only my tripod was big) our gear around.
#25 Waiting for our dinner. The food wasn't fantastic. At over 10-20RM for each simple plate of fried rice or (kungfu) kway teow, it was more expensive than we expected. The best part was… there were 6 of us and they served each plate 1 by 1 in slow motion… zzz.z..zz.. oh, thats also where the
Legend of the Kai Lan
started!
#26 Kuching means cat. This native feline was also impatiently waiting for our food…
Night Shoot at Jungle Trail
After a long draggy dinner, we finally went on our first real shoot at a trail that leads out from the cafe.
#27 Looks like a little
Click Beetle
resting on a light post. Has a really big head!
#28 Found a
Soldier Fly
resting on a leaf. Didn't budge despite my clumsy flashes bumping on the branches!
#29 Since it was so well behaved, I took a close-up shot of its eyes!
#30 One thing that this trail had, was a wide variety of
Stick Insects
(
Phasmids
)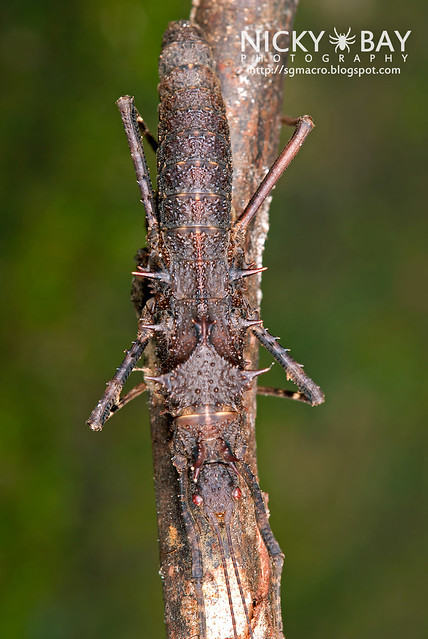 #31 Top view record shot
#32
Copper-Cheeked Frog
found somewhat below a bridge. The rest went down for closer shots while I took this shot from above with my 180mm. 🙂
#33 Beautiful crab with bright red claws!
#34 Another shot of the cute crab
#35 Scorpion captures a cockroach for supper
#36 Planthopper nymph. Didn't manage to take a good shot before it jumped away! 🙁
#37 A really tiny
Longhorn Beetle
(
Cerambycidae
). I was looking for the scorpion that dropped into the leaf litter, but found this tiny guy instead and thought it was a planthopper initially.
#38 Top view. The 2 black spots are actually humps on its back.
#39 Clinging on tightly to the branch
#40 It looked at me!!!
#41 Yet another Stick Insect! This one had a bright red stripe along its body
#42 Melvyn found another one, same species
#43 Top view to show the red stripe
#44 Close up of its head!
#45 On our way back, the Copper-Cheeked Frog had hopped up to meet us!
#46 A large
Huntsman Spider
(
Heteropoda Boiei
) which I thought was a Lichen Huntsman initially. On closer inspection, it was green!
#47 Closer look at the
H. Boiei
#48 This spider had 2 strands of hair combed to the front
#49 The real stick insect (that looks like an innocent twig). About 5 inches long perhaps? Background lighted up with a torch.
#50 Tortoise Beetle. Forgot to take other angles of it. 🙁
#51 Male crab spider, very tiny and has a "old" looking face
Thats all for the first night! Stay tuned for the shots from subsequent days… more bugs and less of ourselves. 😛
Read the other posts from this trip: